The Technology of Comfort And Heavy-Duty
The key to peak gaming performance starts with solid support, so we at EWIN want to provide you with an ergonomic and comfortable chair with every possible adjustment. Over the years, we've invested millions into R&D to improve every single chair and desk we make. Our engineers design, test and iterate every aspect of our chairs to ensure they're more comfortable and sturdier than ever. Now take a look at the below information to know about all the features!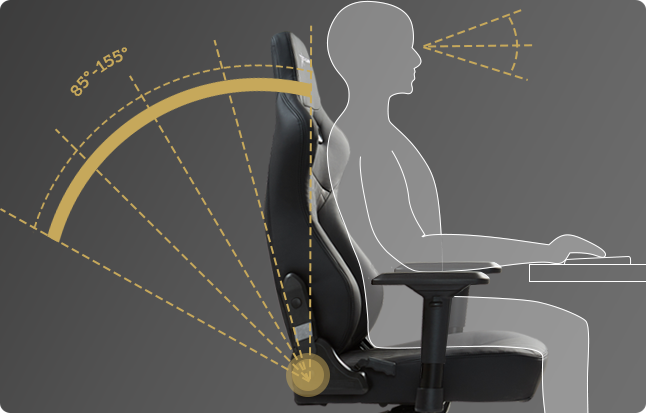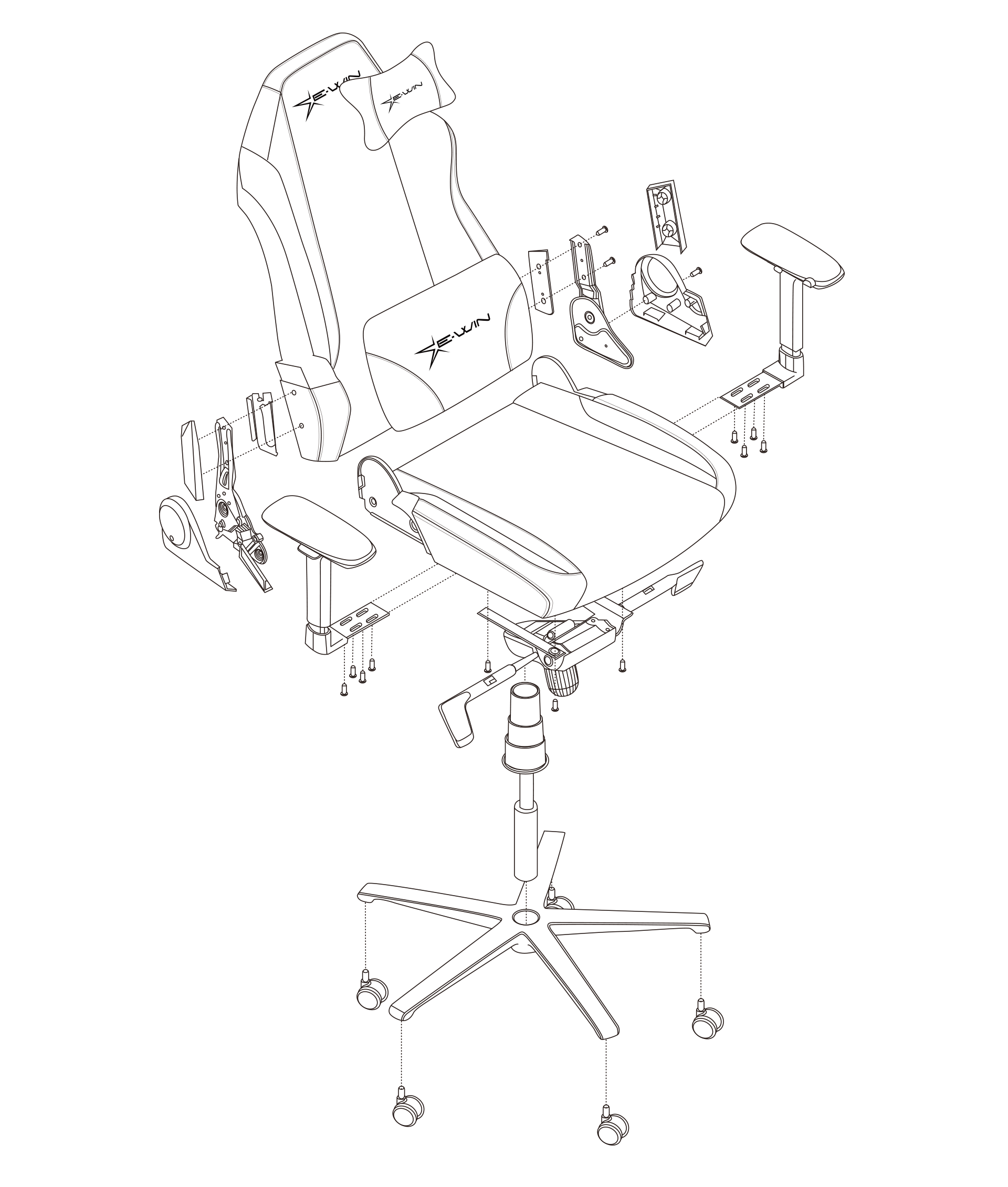 America's NO.1 Heavy -Duty
Gaming Chairs
Materials
Ewin High-Durability Carbon Structural Electrostatic Powder Coating Steel Frame
The body of the chair is manufactured using a high-diameter steel frame and electrostatic powder coating technology to ensure a durable structure that will not rust and increase the life of the chair.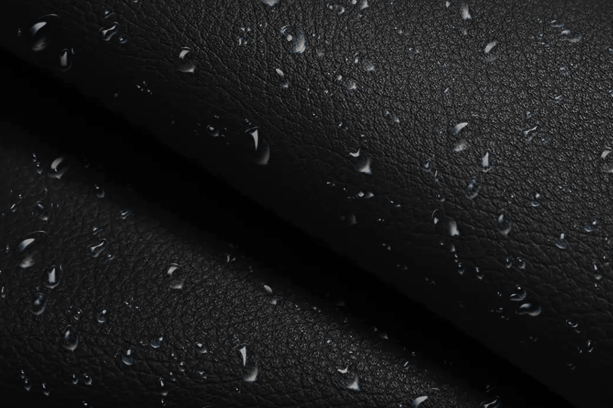 Ewin Hydrolysis Resistant 2.0 PU Leather
Along with Improved Flexing, Scratch & Abrasion resistance and Environment protection, our Hydrolysis Resistant 2.0 PU Leather is also supported by a fleece lining of 3D polyurethane microfibre layer that enhances durability, absorbs moisture, increases breathability, maintains coolness and ensures the perfect fit. Certified by TÜV SÜD to last more than 200,000 abrasion cycles, the PU leather on our chairs is ten times more durable than the industry standard leather (lasting only 20,000 cycles)
Ewin SoftWeave Fabric
A technical knit that's a first for performance seating. Interlacing loops of high-strength yarn fibers allow for smaller details to be incorporated in each and every stitch. With control over every thread and pixel, we're able to implement multiple layers of varying colors, shades and tones. This enables us to map complex designs into our fabric, including a 3D layered gradient on the side wings of each chair.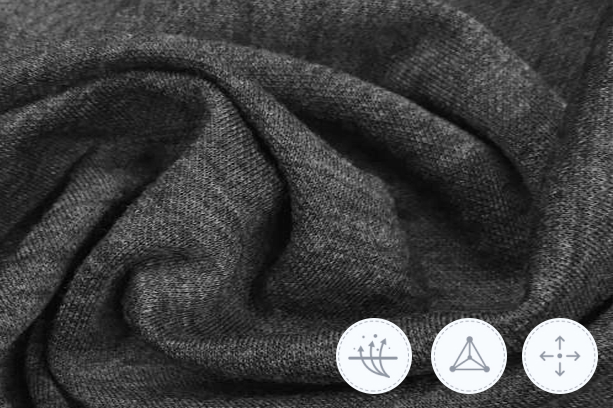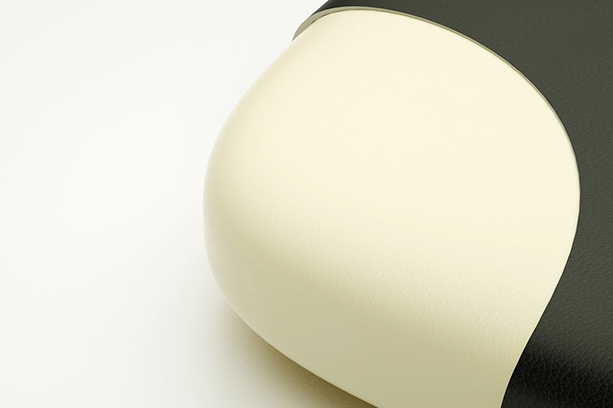 Ewin Ultra Premium Molded Cod-Cured Foam
We use boasting a density well above industry standard, our ultra-premium code-cured foam adds extra padding to the chair while providing more cushioned support to customers. Ewin Cold-cured foam material in the seats and backrest to create a gaming chair that provides unmatched comfort and support. The Cold Cured Foam is firmer than regular foam and always retains its shape for years together.
Technology Support
Neck and Lumbar Support Pillows
To cater to our users and millions more, all E-WIN chairs come with 2 complementary magnetic standard foam pillows that can be easily attached with an elastic strap. With the velvet plush cloth and the perfect soft ness of the foam, E-WIN's magnetic standard foam pillows take your comfort to the next level.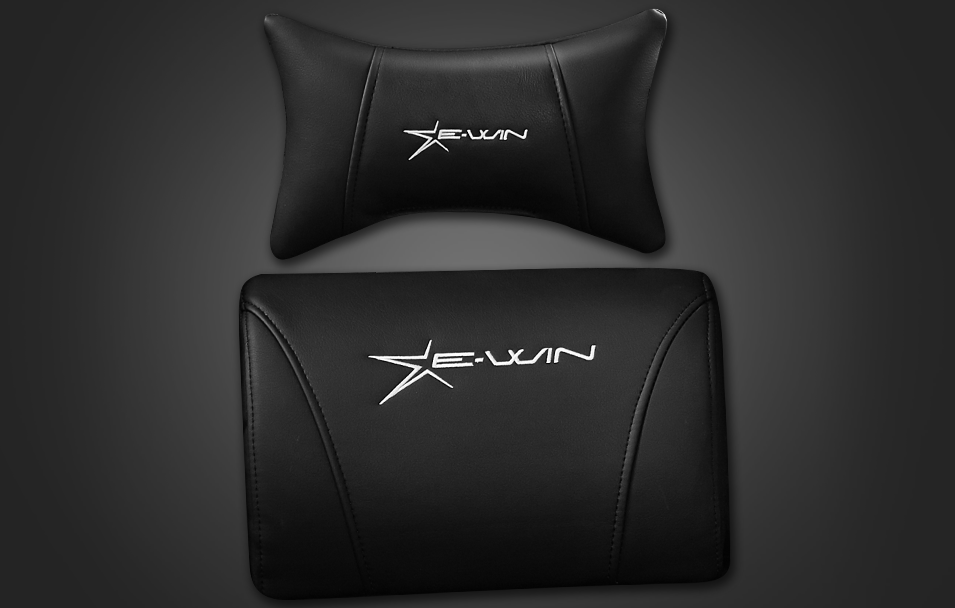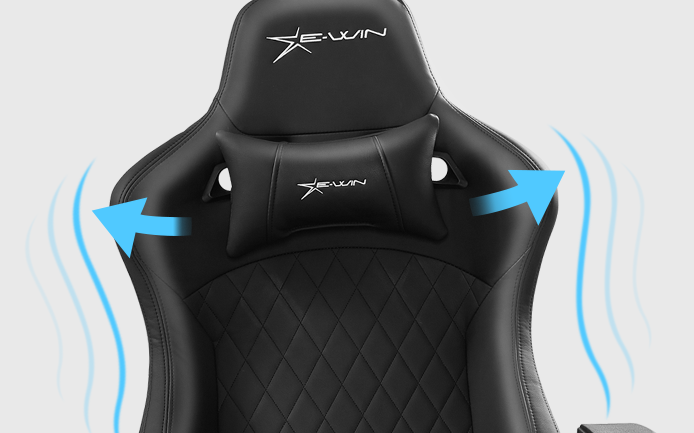 Backrest
We use cold-cured foam material in the seats and backrest to create a gaming chair that provides unmatched comfort and dialing back on its curves. All so you can enjoy a seat that cups your shoulders gently while taking the strain off them.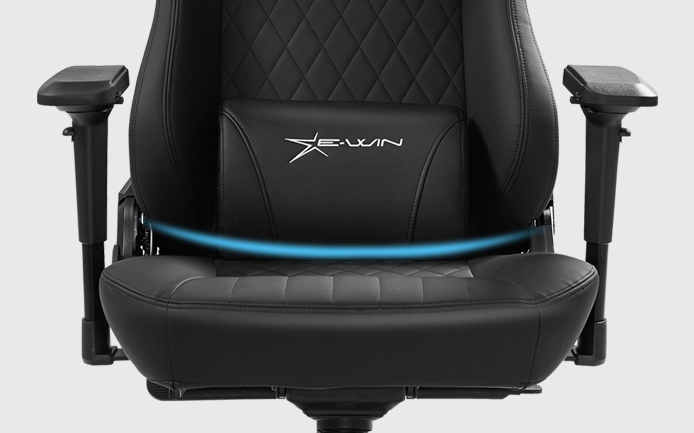 Seat Base
Research into human factors and ergonomics showed us that people tend to shift around a lot in their seats over the course of the day. In this case, our seats are wide and uses a flat design with a small curve on the edges. Hence it even allows you to sit even cross-legged and allows for greater freedom to position your feet under the chair.. Whether for long computer gaming sessions or extended hours at work, our chair will be your best ergonomic partner.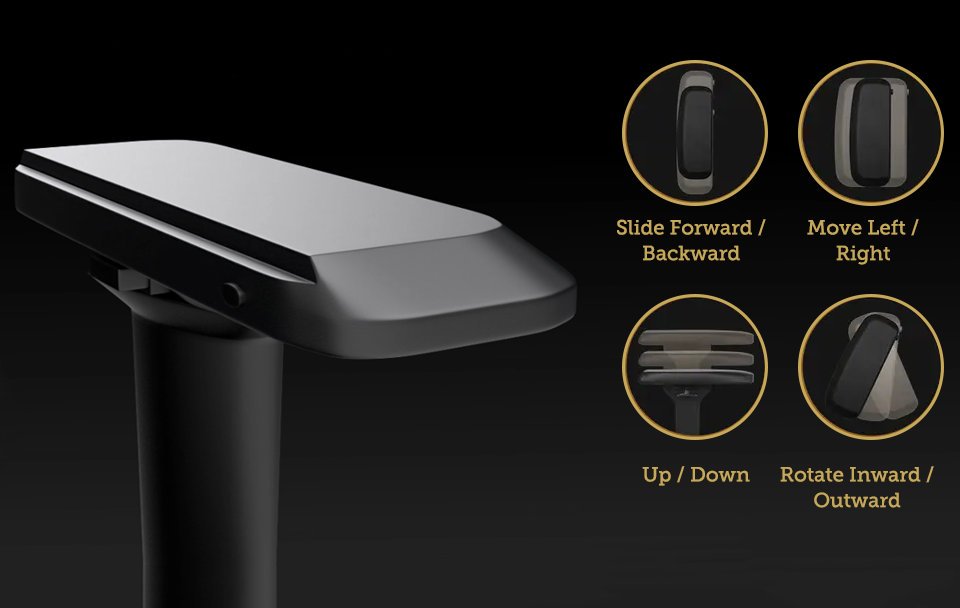 Full-metal PU Padded 4D armrestss
The premium PU leather padding on the 4-dimensional adjustable armrests gives our gaming chair a luxurious feel. Up, down, left, right, forward, back, turned in or turned out, the wide range of adjustments makes you easy to find the perfect position. The lavish feel of the padded armrests help make it the best chair for gaming comfort.
Heavy Duty Multi Tilt Mechanism
Thanks to the adjustable multi-tilt mechanism, when you add a back-rest that can recline up to 155° and a seat that can tilt up to 30°, you get a gaming chair that facilitates legendary levels of relaxation. Also you can lock this gaming chair at your preferred angle or let it act like a rocking chair. Certified by SGS - BIFMA & ANSI, this computer gaming chair line will support your weight to even a combination of full recline and tilt.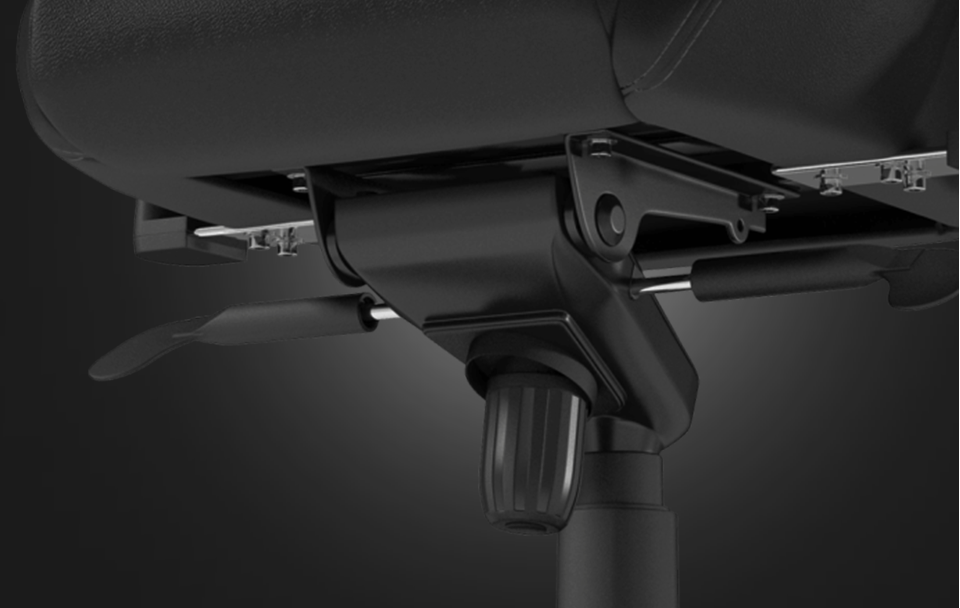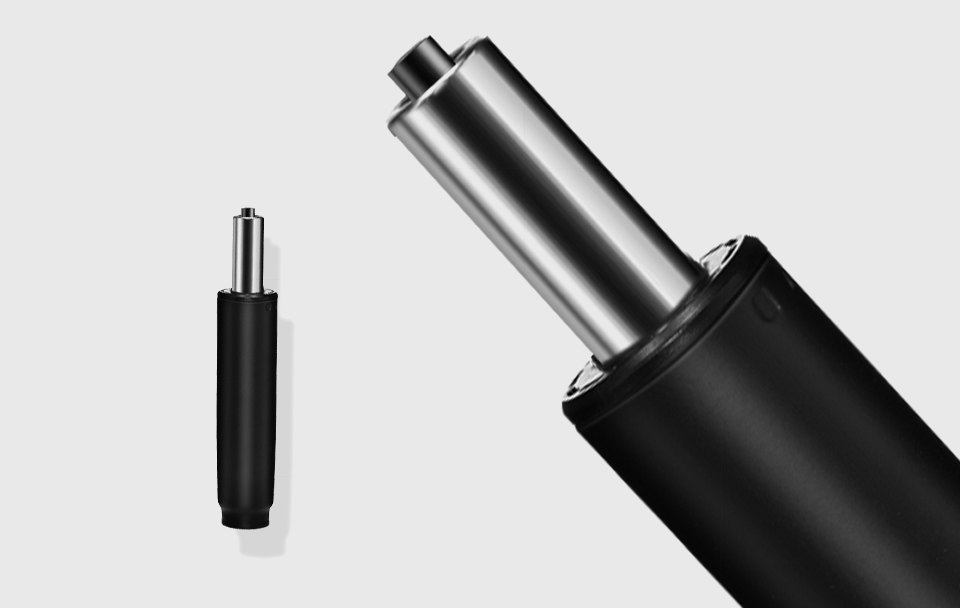 Class 4 Hydraulics
The seamless seat height adjustment provided by our BIFMA-certified heavy-duty class 4 gas lift makes it easy to safely adjust this gaming chair for people of any physique.
BIFMA-CERTIFIED Aluminium Base
We use BIFMA certified wheel base which is made from ADC#12 reinforced Aluminium alloy. This facilities the chair with unmatched durability. Even while tilting or reclining, this heavy duty base will ensure that the chair doesn't even move an inch.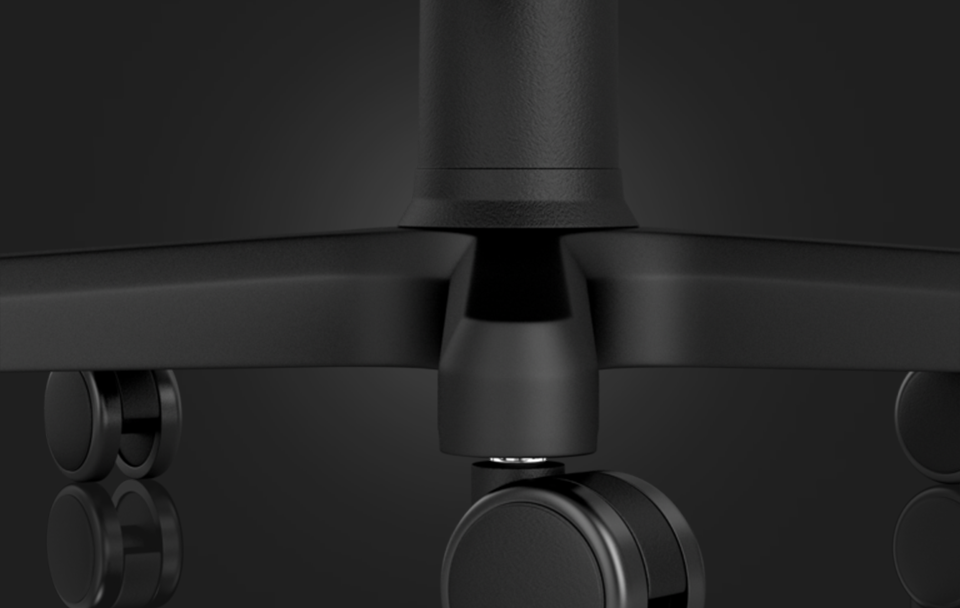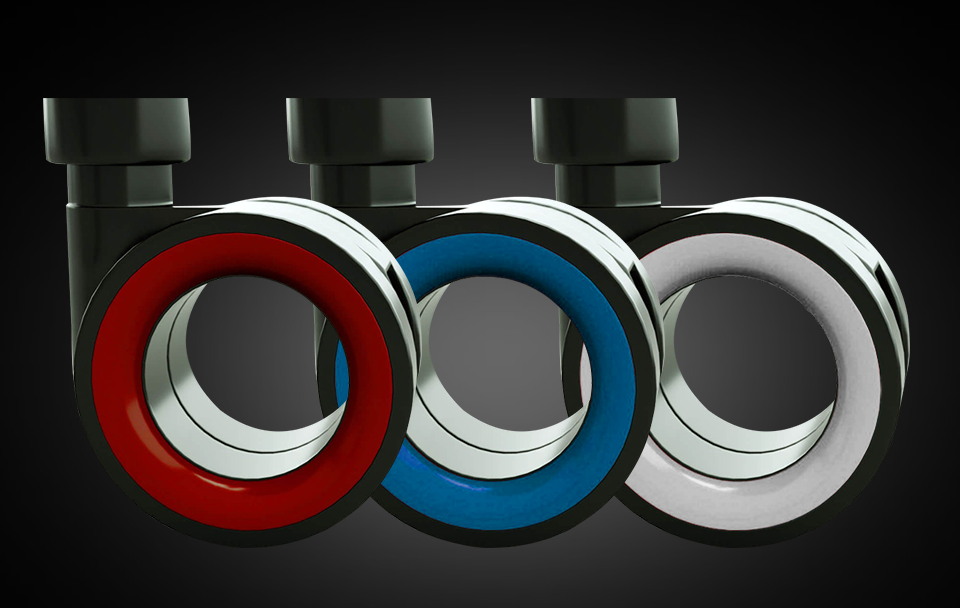 Hub-Less Casters
Choose styles Of Champion Series Come with E-WIN PRIME Hub-Less Wheels, featuring all-metal ball bearing for a soft, smooth glide and long-lasting usage while giving a unique and futuristic appearance.
Tests
The Ewin's supe erior build quality is reflected by its collection of internationally recognized certifications and standards-a result of intense trials and testing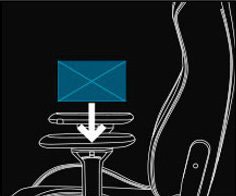 Proof Load Drop Test
Up To 500lbs weight dropped onto the center of the seat.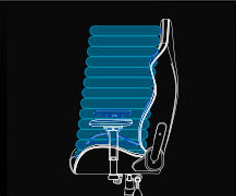 Rear Leaning Stability Test
Up To 300lbs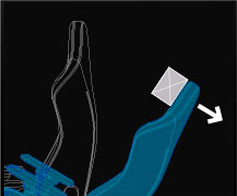 Backrest Load Test
A force of 1,000N is applied to the backrest for 1 minute.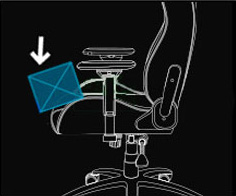 Forward Overturning Test
A vertical force of 650N is applied at points most likely to result in overturning.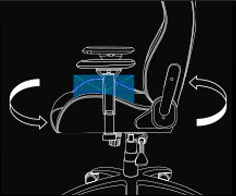 Swivel Test
120,000 cycles 350lbs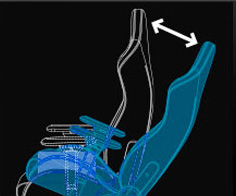 Tilt Mechanism Test
300,000 cycles Chair is tilted with 350lbs weight on the center of the seat.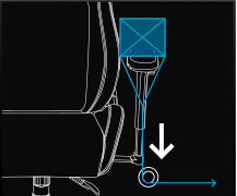 Vertical Force Armrest Test
235lbs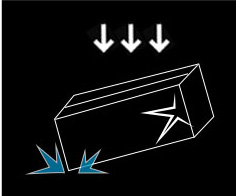 Packaging Drop Test
We drop our packaging up to 8 times from height to make sure it protects your chair from the bumps and knocks during shipping.
Up To Extended 5-Year Limited Warranty
Extraordinary Service for Extraordinary Customers.
Quality is remembered long after the price is forgotten. E-WIN Gaming Chairs are well designed and manufactured by R&D; keeping quality and durability as a priority. However, if anything happens, we have got you covered for the full term of 5 years with our Extended Limited Warranty. Learn more about our Extended 5-Year Warranty program here.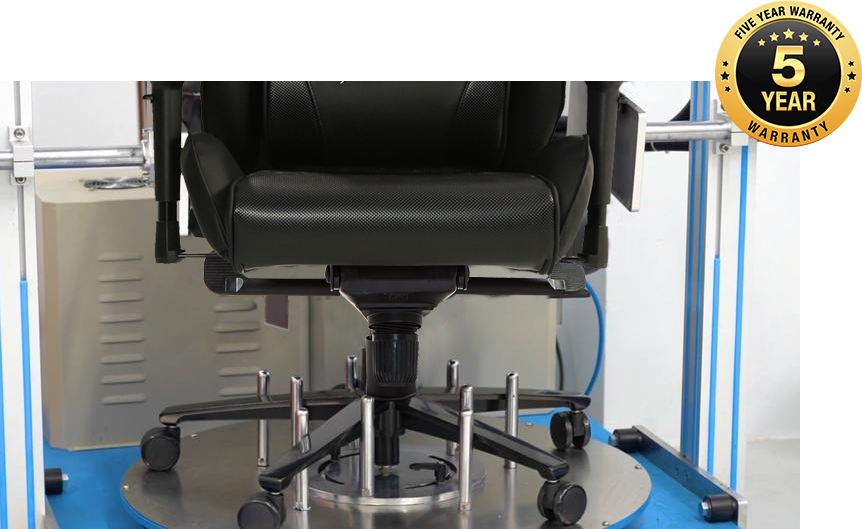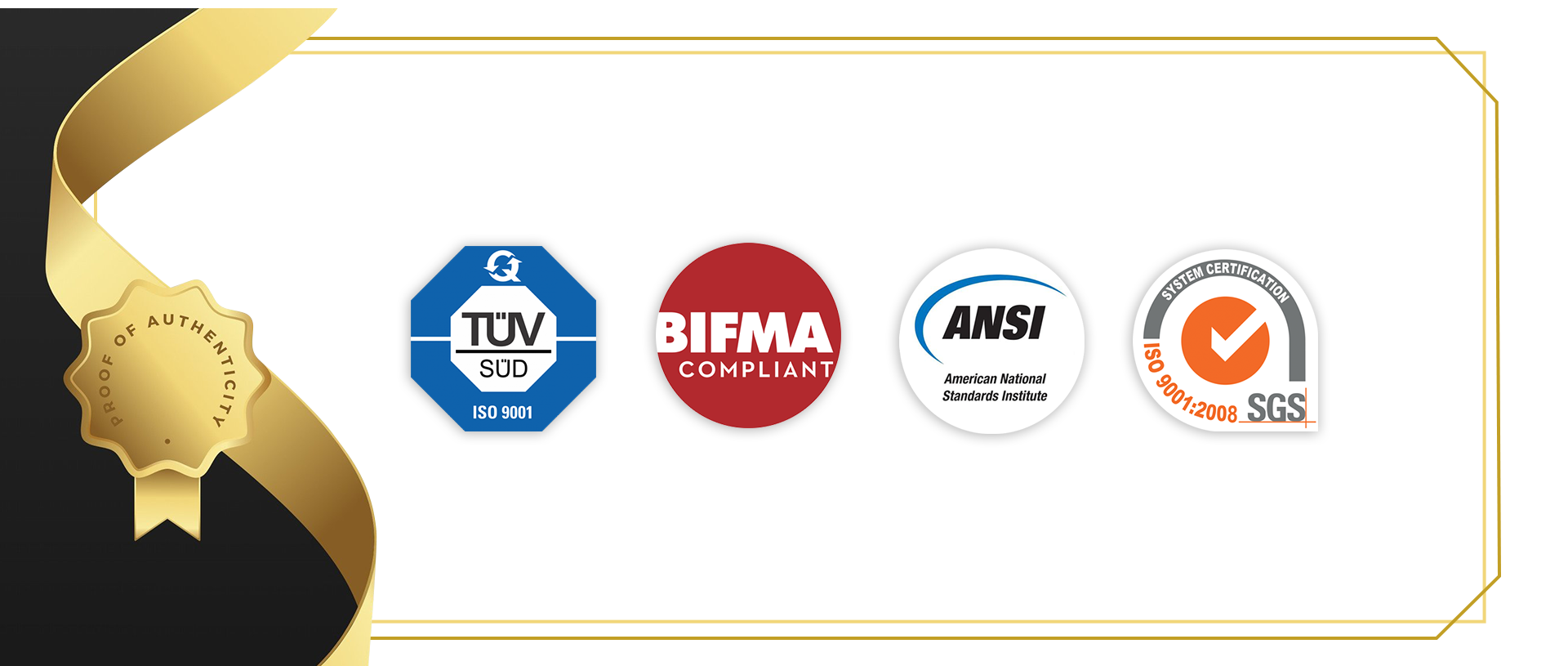 CERTIFICATES